Thank you for your interest in working with Highland Park Senior Living.
If you would like to fill out an application, you can download the application and fax the completed form to 570-208-2330 or email it to [email protected].
We are an equal opportunity employer.
Full Time 2nd shift – Licensed Practical Nurse
We are currently looking for a highly personable and organized candidate to join our team. We need an energetic, reliable individual to assist our residents with activities of daily living.
The position includes the following, but not limited to:
Supervision of staff, Overseeing the needs and well-being of the residents, Developing care plans, Medication management, Knowledge of DHS regulations, Processing Physician orders and Communicating with resident's family members.
Education

Experience

Graduate of an accredited school of nursing with a current valid nursing license in the State of Pennsylvania.
Preferred, but not required: Three to five years' geriatric, long-term or home care nursing experience.
Benefits Include:
401(k) matching
Disability insurance
Flexible schedule
Health insurance
Paid time off
Referral program
Bonus Program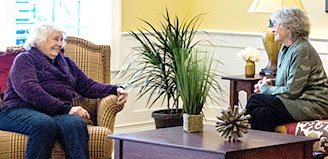 Contact us today for more information about Highland Park or to schedule a tour of our Senior Living Community.